Videos
David Mitchell Interview: Stories Have a Number of Beginnings
Channel :-  Louisiana Channel
Published Date :- 2015-August-3rd
Link
Question & Answer
Outline
David Mitchell Interview: Stories Have a Number of Beginnings
Link
Manuscript for a hundred years
Link
Younger, Stammering Self
Link
Indepth
David Mitchell Interview: Stories Have a Number of Beginnings

Chart-topping English novelist and "word-nerd" David Mitchell, commended for the novel 'Cloud Atlas', here explains why he likes to experiment and strives to avoid repetition: "If my books are my children, then I want them to have distinct personalities."
Though it can be tempting to push the buttons that made his bestselling novel 'Cloud Atlas' (2004) such a success, Mitchell is very aware that repetition can be a cul-de-sac for a writer. He therefore tries to put some space between each of his books and seeks to be "omnivorous" in what he reads and what he writes. Books, he feels, are always evolved from several stem cells: "Stories have a number of beginnings." Furthermore, Mitchell also attributes some of the success of 'Cloud Atlas' to the recklessness of his younger self, who was not afraid of trying something that might fail: "Sometimes your youth and inexperience can be an ally."
Imagination is extremely important not only for writers, but also for human beings in general, as it "allows us to experiment with our environment without having to pay the physical consequences of that." For a writer, the imagination also becomes a driving force, which must be processed by being transferred into text: "Writer's don't properly grow up. Writers continue to have invisible friends, it's just that they become more complex and turn into Madame Bovary rather that Casper the Friendly Ghost or Frank the Monster, who lives under your bed."
Mitchell stammered as a child and as a youth and he sees this as one of the factors that compelled him to write, as it allowed him to feed his "word-nerdery." The fulfilment of being able to write a nearly perfect and well-crafted sentence is incomparable: "I'm an unreformed word-nerd."
David Mitchell (b. 1969) is an English novelist. Three of his novels have been shortlisted for the Man Booker Prize – 'number9dream' (2001), 'Cloud Atlas' (2004) and 'The Bone Clocks' (2014). 'Cloud Atlas' was subsequently made into a film (2012). In 2003 Mitchell was selected as one of Granta's Best of Young British Novelists, and in 2007 he was listed among Time Magazine's 100 Most Influential People in The World. Mitchell, who in recent years has also written opera libretti, lived several years in Japan but now resides in Ireland with his wife and children.
David Mitchell was interviewed by Kim Skotte at the Louisiana Museum of Modern Art, Denmark in August 2014.
David Mitchell buries latest manuscript for a hundred years
David Mitchell, a regular contender for the Man Booker prize, is used to his novels being picked over by the critics. So it's something of a relief, says the British author, that his latest work – completed at 1am one Tuesday morning before a car arrived to take him to the airport to catch a flight to Norway – won't be seen by anyone until 2114.
Each author – their names revealed year by year and chosen by a panel of experts and Paterson, while she is alive – will make the trek to the spot in the forest high above Oslo, where they will surrender their manuscripts in a short ceremony.
"It's a little glimmer of hope in a season of highly depressing news cycles, that affirms we are in with a chance of civilisation in 100 years," said Mitchell. "Everything is telling us that we're doomed, but the Future Library is a candidate on the ballot paper for possible futures. It brings hope that we are more resilient than we think: that we will be here, that there will be trees, that there will be books, and readers, and civilisation."
Mitchell said he found writing the book "quite liberating, because I won't be around to take the consequences of this being good, or bad … But I'm sandwiched between Margaret Atwood, and no doubt some shit-hot other writer [yet to be revealed]. So it better be good. What a historic fool of epochal proportions I'd look, if they opened it in 2114 and it wasn't any good."
Usually, says Mitchell, who was shortlisted for the Man Booker for his novels number9dream and Cloud Atlas, he "polishes and polishes" his writing. "Actually I over-polish. But this was very different – I wrote up to the wire. So the first two-thirds were polished, and the final third I didn't have time. And it was a liberation."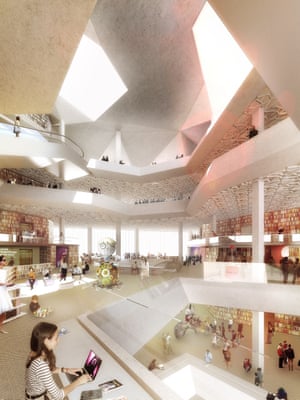 Contributors to Future Library can write whatever they like – poems, short stories, novels or non-fiction – in any language. The only thing asked of them is that they do not speak about their writing, show it to anyone, and that they deliver one hard copy and one digital copy at the handover ceremony in Oslo. Writing about the project, the curator Lisa Le Feuvre said: "We have to trust that they have written – imagine saying yes, and then time running out. Nobody in your lifetime would know that you had just repeated the alphabet 100 times over. Does it matter if a writer is deemed lazy when they can't hear the judgment with their own ears?"
Future Library creator Paterson, whose past works have involved her mapping dead stars and compiling a slide archive of the history of darkness through the ages, asked the writers to tackle "the theme of imagination and time, which they can take in so many directions".
Mitchell revealed only the name of the manuscript, From Me Flows What You Call Time, during a Saturday ceremony in the Norwegian woods next to where Paterson's 1,000 trees are planted. The title is taken from a piece of music by Japanese composer Toru Takemitsu, but other than admitting that "it's somewhat more substantial a thing than I was expecting", the author would say nothing more.
Handing over his text in the forest, sheltered from the intermittent rain by an umbrella and amid the foot-high shoots of 1,000 pine trees, Mitchell read his damp audience of children and adults a short story and William Wordsworth's A slumber did my spirit seal. Its ending, "Rolled round in earth's diurnal course / With rocks, and stones, and trees", felt appropriate in this small section of forest, carpeted with blueberry bushes, which will be carefully tended to for the next 98 years before it is turned into Future Library's manuscripts.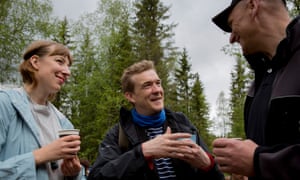 "How vain to suppose the scribblings of little old me will be of enduring interest to future generations. Yet how low-key and understated, to slave over a manuscript that nobody will ever pat you on the back for and say: 'Nice one', or 'God, I loved the bit where she did that and he did this …'" Mitchell wrote in a piece for the Future Library.
His manuscript, now delivered, will be sealed and placed alongside Atwood's in a wood-lined room in Oslo's new public library, which will open in 2019. Watched over by a trust of experts until it is finally printed, it is now, says the novelist, "as gone from me as a coin dropped in a river".
Mitchell says latest novel is a call to his younger, stammering self
In his new novel, "Black Swan Green," David Mitchell creates an English teenager at war with his own speech impediment. "When a stammerer stammers," the character says, "their eyeballs pop out, they go trembly-red like an evenly matched arm wrestler, and their mouth guppergupperguppers like a fish in a net."
Mitchell, best known for his 2004 novel "Cloud Atlas," should know. A stammerer all his life, he remembers his self-conscious adolescence as "nothing but pain," a time when "even seeing a stammerer on TV is agony. Even hearing the words 'speech impediment' fills one with mortification." He wasted years, he says, "trying to will it out of existence, to reboot my language software."
Compared with Jason Taylor, the 13-year-old protagonist of "Black Swan Green" (Random House, $23.95), Mitchell says, "I was a more successful sheep, a more successful conformer … although my own experience was sufficient to at least extrapolate Jason's experience."
Born on the Lancashire coast of northwest England, Mitchell, 37, was reared from age 7 in Hanley Swan, a little village in Worchestershire. Although his father worked in the design department of a porcelain company and his mother did freelance floral art, his childhood was anything but '70s bohemian. "It was a very, very straight, middle-class, white, English upbringing."
Today, Mitchell's stammer is slight, something you might not notice if you didn't anticipate it. He speaks slowly, pauses frequently in the middle of a sentence — "strategies," as he calls them, to avert that blockage between thought and speech. Mitchell's voice is so soft and his affect so modest that the vestige of a stammer blends with his easy manner.
Barefoot, sitting on a sofa in a natty hotel suite near Union Square, he has a fragility that seems at odds with the muscularity of his prose. He's tall and slender, fair-skinned, with the long, articulate fingers of a pianist.
"Black Swan Green" is a deliberate departure from his first three novels, all of which were driven by a young author's urge to experiment with structure and literary systems.
"Ghostwritten" (1999) tells nine interconnecting stories in what Publishers Weekly called a "mammoth sociocultural tapestry." His second novel, "number9dream," traces a young man's search for his father in a futuristic, mobster-ridden Tokyo, and was short-listed for the prestigious Man Booker Prize in 2001.
His greatest success, "Cloud Atlas," was a favorite to win the 2004 Booker Prize but, in a competitive year, lost to Alan Hollinghurst's masterful "The Line of Beauty." "Cloud Atlas" builds six novellas, each exploring a different literary genre, each set in a different time period and part of the world. Among them: New Zealand in 1850, Korea in the distant future, contemporary England and a place that resembles California in the 1970s.
"Mitchell is, clearly, a genius," noted Tom Bissell, who reviewed the book for the New York Times. "He writes as though at the helm of some perpetual dream machine, can evidently do anything, and his ambition is written in magma across this novel's every page."
Most writers hunger for that kind of recognition, but Mitchell, whose exuberant mastery of language has also earned comparisons to Nabokov, says he makes a point of distancing himself from praise. He winces, in fact, when I call him a wonderful writer — as if I'd spilled hot coffee on his shoe and it were seeping into his socks.
"You need to insulate yourself against arrogance — meaning one's own arrogance," Mitchell says. "Humility is very important, not just as a quality of a balanced human being, but necessary if you want people to feel they can give you their stories and interact with you in a way that is useful for writers."
In "Black Swan Green," Mitchell drops the legerdemain of his earlier work — the multiple story lines, the playful deconstruction of form — for a linear narrative. Originally, he was going to follow "Cloud Atlas" with the novel he's currently writing — a tale of Dutch characters in 18th century Japan — but decided to let "Black Swan Green" jump the queue.
"I wanted a rest from research," he explains. After marrying his wife, Keiko, whom he met during an eight-year teaching stint in Japan, Mitchell found himself wanting to go deeper into his characters' lives. The couple live in Ireland with their daughter, Hana, 4, and son, Noah, 7 months.
Experiments with form were so important in his early fiction, Mitchell says, because "there were lots that hadn't been done and there was space to be a pioneer. But my interests are more domestic now. I'm not saying you can't use structure to resonate themes, or to play. But I feel less and less that structural experiment is an end in itself."
The books he loves now "are the books that make me care deeply about a person and make me afraid that bad things are going to be happening to that person. The formula is that simple."
When I ask if writing "Black Swan Green" was therapeutic for Mitchell — if by creating the Jason character he was reaching back in time and forgiving his confused teenage self — Mitchell says no. "I think what is truer to say is, it's kind of a phone call to my 13-year-old self. To tell him some of the things I sort of wish I'd been told: about speech, but also about the world and people."
Much as the speech therapist in "Black Swan Green" urges Jason to do, Mitchell says he's made an "accommodation" with his stammer.
Whatever one's disability or impediment, he says, "I'm thinking more and more these days that, instead of viewing them as an enemy to be vanquished, it's a whole lot more healthy to view them as informants and, in an odd kind of way, friends."